General Purpose Syringes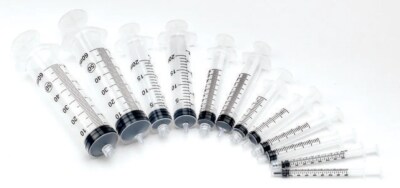 General purpose syringes are used in many laboratories and other workplaces for drawing up and expelling liquids or suspensions.
General purpose syringes are designed to fit appropriate needles, tubing, syringe filters or similar devices. They can be constructed of plastic or glass, or a combination of both, and may also have metal components.
General purpose syringes comprise a barrel, a plunger, and a terminal fitting for needles or other attachments. Two-part syringes have an integral barrel and terminal fitting, with a separate plunger. Three-part syringes have a plunger fitted with a separate rubber piston at the end.
Barrels are normally graduated and transparent so that the contents are clearly visible. Syringe capacities may range from 1mL up to 50mL or more.
Plastic general-purpose syringes are made from polypropylene or polyethylene and are often single-use and disposable. Syringes with glass barrels frequently have metal plungers and terminal fittings, so tend to offer better overall chemical resistance and durability.
Syringe fittings may be Luer slip, in which case they have simple 'push-on' terminals that hold needles in place just by friction, or Luer-lock, which twist and lock needles in place for a more secure fit. Luer fittings can be concentric (central to the barrel) or offset (acentric or eccentric).
Applications of general-purpose syringes are widespread:
General liquid sampling, transfer or aspiration
Passing media or cell/microbial cultures through a filter
Loading electrophoresis gels or chromatography columns
Clinical injection or sampling of blood or other fluids
Dispensing viscous liquids, lubricants or greases