Reagents for Food and Beverage Analysis
Determining the nutritional value and quality of food and testing for key contaminants, such as pesticides and heavy metals, are important parts of ensuring food safety. Explore this comprehensive range of analytical reagents, including custom products, for your analysis workflows in the food, beverage, and agriculture industries.
Categories
Discover Customised Products
If your work requires a custom chemical product, we can distil, blend, test, label, and package ours to meet your requirements.
Semi-bulk and bulk chemical services
Custom-made chemicals
Returnable drum delivery system
---
Chromatography
Find reagents for the full range of chromatographic workflows, including liquid and gas chromatography, mass spectrometry, UV, electron capture, and flame ionisation detection. These products undergo application-specific testing and rigorous quality-assurance procedures to help reduce interference and ensure reproducible results.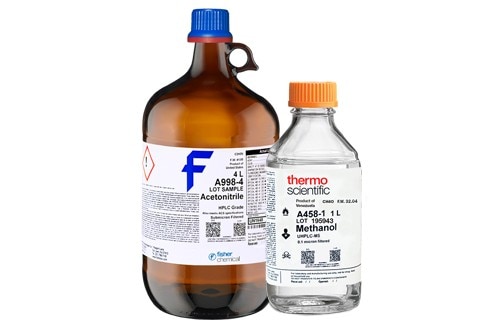 Liquid Chromatography
Identify the presence of aflatoxins and mycotoxins, as well as the components and concentration of contaminating pesticides and veterinary drugs, in finished products with Fisher Chemical™ and Thermo Scientific™ solvents and blends.
Gas Chromatography
Extract and prepare samples to detect flavours and fragrances or identify contaminants, such as pesticides, with Fisher Chemical GC headspace solvents. They are performance tested to ensure low levels of organic contaminants and useful for residual solvent analysis during quality control for flavour development.