Deuterated Solvents - Chloroform
Fisher Scientific offers a broad range of high quality deuterated products from the Acros Organics and Alfa Aesar brands for all your routine synthesis and structural analysis needs.
These solvents contain high chemical purity and maximum isotopic enrichment.
Deuterated solvents are manufactured for use with NMR instruments
Water contamination can be a problem for deuterated NMR solvents. Acros Organics now provide a range of deuterated solvents in their industry leading AcroSeal™ packaging to keep them drier for longer.
Fisher Scientific is committed to providing a broad range of high quality products capable of satisfying the most rigorous demands of NMR-based research and analyses.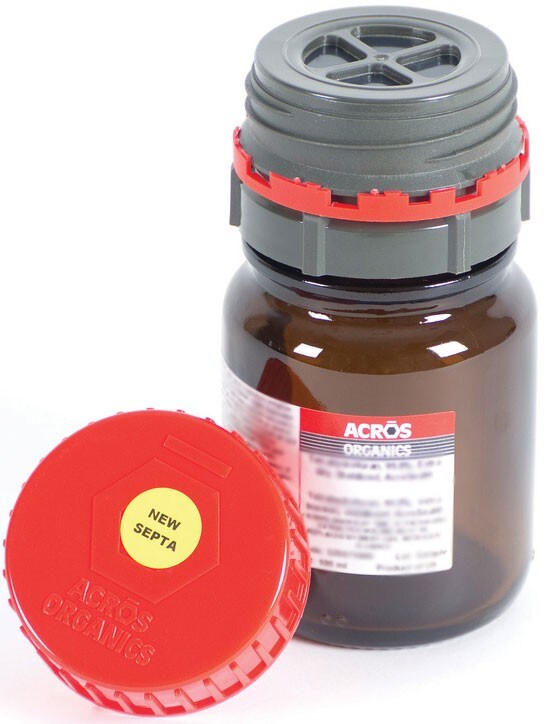 Filtered Search Results
Product from some of our suppliers do not display in Filtered Search results. Please
clear all filters
to see these products
CAS: 865-49-6 Molecular Formula: CHCl3 Molecular Weight (g/mol): 120.375 MDL Number: MFCD00000827 InChI Key: HEDRZPFGACZZDS-MICDWDOJSA-N Synonym: chloroform-d,deuterochloroform,methane-d, trichloro,2h chloroform,deuterated chloroform,cdcl3,trichloromethane-d,unii-p1nw4885vt,trichloro deuterio methane,chloroform, deutero PubChem CID: 71583 ChEBI: CHEBI:85365 IUPAC Name: trichloro(deuterio)methane SMILES: C(Cl)(Cl)Cl
| | |
| --- | --- |
| PubChem CID | 71583 |
| CAS | 865-49-6 |
| Molecular Weight (g/mol) | 120.375 |
| ChEBI | CHEBI:85365 |
| MDL Number | MFCD00000827 |
| SMILES | C(Cl)(Cl)Cl |
| Synonym | chloroform-d,deuterochloroform,methane-d, trichloro,2h chloroform,deuterated chloroform,cdcl3,trichloromethane-d,unii-p1nw4885vt,trichloro deuterio methane,chloroform, deutero |
| IUPAC Name | trichloro(deuterio)methane |
| InChI Key | HEDRZPFGACZZDS-MICDWDOJSA-N |
| Molecular Formula | CHCl3 |
CAS: 865-49-6 Molecular Formula: CHCl3 Molecular Weight (g/mol): 120.375 MDL Number: MFCD00000827 InChI Key: HEDRZPFGACZZDS-MICDWDOJSA-N Synonym: chloroform-d,deuterochloroform,methane-d, trichloro,2h chloroform,deuterated chloroform,cdcl3,trichloromethane-d,unii-p1nw4885vt,trichloro deuterio methane,chloroform, deutero PubChem CID: 71583 ChEBI: CHEBI:85365 IUPAC Name: trichloro(deuterio)methane SMILES: C(Cl)(Cl)Cl
| | |
| --- | --- |
| PubChem CID | 71583 |
| CAS | 865-49-6 |
| Molecular Weight (g/mol) | 120.375 |
| ChEBI | CHEBI:85365 |
| MDL Number | MFCD00000827 |
| SMILES | C(Cl)(Cl)Cl |
| Synonym | chloroform-d,deuterochloroform,methane-d, trichloro,2h chloroform,deuterated chloroform,cdcl3,trichloromethane-d,unii-p1nw4885vt,trichloro deuterio methane,chloroform, deutero |
| IUPAC Name | trichloro(deuterio)methane |
| InChI Key | HEDRZPFGACZZDS-MICDWDOJSA-N |
| Molecular Formula | CHCl3 |
CAS: 865-49-6 Molecular Formula: CHCl3 Molecular Weight (g/mol): 120.375 MDL Number: MFCD00000827 InChI Key: HEDRZPFGACZZDS-MICDWDOJSA-N Synonym: chloroform-d,deuterochloroform,methane-d, trichloro,2h chloroform,deuterated chloroform,cdcl3,trichloromethane-d,unii-p1nw4885vt,trichloro deuterio methane,chloroform, deutero PubChem CID: 71583 ChEBI: CHEBI:85365 IUPAC Name: trichloro(deuterio)methane SMILES: C(Cl)(Cl)Cl
| | |
| --- | --- |
| PubChem CID | 71583 |
| CAS | 865-49-6 |
| Molecular Weight (g/mol) | 120.375 |
| ChEBI | CHEBI:85365 |
| MDL Number | MFCD00000827 |
| SMILES | C(Cl)(Cl)Cl |
| Synonym | chloroform-d,deuterochloroform,methane-d, trichloro,2h chloroform,deuterated chloroform,cdcl3,trichloromethane-d,unii-p1nw4885vt,trichloro deuterio methane,chloroform, deutero |
| IUPAC Name | trichloro(deuterio)methane |
| InChI Key | HEDRZPFGACZZDS-MICDWDOJSA-N |
| Molecular Formula | CHCl3 |
CAS: 865-49-6 Molecular Formula: CHCl3 Molecular Weight (g/mol): 120.375 MDL Number: MFCD00000827 InChI Key: HEDRZPFGACZZDS-MICDWDOJSA-N Synonym: chloroform-d,deuterochloroform,methane-d, trichloro,2h chloroform,deuterated chloroform,cdcl3,trichloromethane-d,unii-p1nw4885vt,trichloro deuterio methane,chloroform, deutero PubChem CID: 71583 ChEBI: CHEBI:85365 IUPAC Name: trichloro(deuterio)methane SMILES: C(Cl)(Cl)Cl
| | |
| --- | --- |
| PubChem CID | 71583 |
| CAS | 865-49-6 |
| Molecular Weight (g/mol) | 120.375 |
| ChEBI | CHEBI:85365 |
| MDL Number | MFCD00000827 |
| SMILES | C(Cl)(Cl)Cl |
| Synonym | chloroform-d,deuterochloroform,methane-d, trichloro,2h chloroform,deuterated chloroform,cdcl3,trichloromethane-d,unii-p1nw4885vt,trichloro deuterio methane,chloroform, deutero |
| IUPAC Name | trichloro(deuterio)methane |
| InChI Key | HEDRZPFGACZZDS-MICDWDOJSA-N |
| Molecular Formula | CHCl3 |
CAS: 865-49-6 Molecular Formula: CHCl3 Molecular Weight (g/mol): 120.375 MDL Number: MFCD00000827 InChI Key: HEDRZPFGACZZDS-MICDWDOJSA-N Synonym: chloroform-d,deuterochloroform,methane-d, trichloro,2h chloroform,deuterated chloroform,cdcl3,trichloromethane-d,unii-p1nw4885vt,trichloro deuterio methane,chloroform, deutero PubChem CID: 71583 ChEBI: CHEBI:85365 IUPAC Name: trichloro(deuterio)methane SMILES: C(Cl)(Cl)Cl
| | |
| --- | --- |
| PubChem CID | 71583 |
| CAS | 865-49-6 |
| Molecular Weight (g/mol) | 120.375 |
| ChEBI | CHEBI:85365 |
| MDL Number | MFCD00000827 |
| SMILES | C(Cl)(Cl)Cl |
| Synonym | chloroform-d,deuterochloroform,methane-d, trichloro,2h chloroform,deuterated chloroform,cdcl3,trichloromethane-d,unii-p1nw4885vt,trichloro deuterio methane,chloroform, deutero |
| IUPAC Name | trichloro(deuterio)methane |
| InChI Key | HEDRZPFGACZZDS-MICDWDOJSA-N |
| Molecular Formula | CHCl3 |
CAS: 865-49-6 Molecular Formula: CHCl3 Molecular Weight (g/mol): 120.375 MDL Number: MFCD00000827 InChI Key: HEDRZPFGACZZDS-MICDWDOJSA-N Synonym: chloroform-d,deuterochloroform,methane-d, trichloro,2h chloroform,deuterated chloroform,cdcl3,trichloromethane-d,unii-p1nw4885vt,trichloro deuterio methane,chloroform, deutero PubChem CID: 71583 ChEBI: CHEBI:85365 IUPAC Name: trichloro(deuterio)methane SMILES: C(Cl)(Cl)Cl
| | |
| --- | --- |
| PubChem CID | 71583 |
| CAS | 865-49-6 |
| Molecular Weight (g/mol) | 120.375 |
| ChEBI | CHEBI:85365 |
| MDL Number | MFCD00000827 |
| SMILES | C(Cl)(Cl)Cl |
| Synonym | chloroform-d,deuterochloroform,methane-d, trichloro,2h chloroform,deuterated chloroform,cdcl3,trichloromethane-d,unii-p1nw4885vt,trichloro deuterio methane,chloroform, deutero |
| IUPAC Name | trichloro(deuterio)methane |
| InChI Key | HEDRZPFGACZZDS-MICDWDOJSA-N |
| Molecular Formula | CHCl3 |
CAS: 865-49-6 Molecular Formula: CHCl3 Molecular Weight (g/mol): 120.375 MDL Number: MFCD00000827 InChI Key: HEDRZPFGACZZDS-MICDWDOJSA-N Synonym: chloroform-d,deuterochloroform,methane-d, trichloro,2h chloroform,deuterated chloroform,cdcl3,trichloromethane-d,unii-p1nw4885vt,trichloro deuterio methane,chloroform, deutero PubChem CID: 71583 ChEBI: CHEBI:85365 IUPAC Name: trichloro(deuterio)methane SMILES: C(Cl)(Cl)Cl
| | |
| --- | --- |
| PubChem CID | 71583 |
| CAS | 865-49-6 |
| Molecular Weight (g/mol) | 120.375 |
| ChEBI | CHEBI:85365 |
| MDL Number | MFCD00000827 |
| SMILES | C(Cl)(Cl)Cl |
| Synonym | chloroform-d,deuterochloroform,methane-d, trichloro,2h chloroform,deuterated chloroform,cdcl3,trichloromethane-d,unii-p1nw4885vt,trichloro deuterio methane,chloroform, deutero |
| IUPAC Name | trichloro(deuterio)methane |
| InChI Key | HEDRZPFGACZZDS-MICDWDOJSA-N |
| Molecular Formula | CHCl3 |
CAS: 865-49-6 Molecular Formula: CHCl3 Molecular Weight (g/mol): 120.375 MDL Number: MFCD00000827 InChI Key: HEDRZPFGACZZDS-MICDWDOJSA-N Synonym: chloroform-d,deuterochloroform,methane-d, trichloro,2h chloroform,deuterated chloroform,cdcl3,trichloromethane-d,unii-p1nw4885vt,trichloro deuterio methane,chloroform, deutero PubChem CID: 71583 ChEBI: CHEBI:85365 IUPAC Name: trichloro(deuterio)methane SMILES: C(Cl)(Cl)Cl
| | |
| --- | --- |
| PubChem CID | 71583 |
| CAS | 865-49-6 |
| Molecular Weight (g/mol) | 120.375 |
| ChEBI | CHEBI:85365 |
| MDL Number | MFCD00000827 |
| SMILES | C(Cl)(Cl)Cl |
| Synonym | chloroform-d,deuterochloroform,methane-d, trichloro,2h chloroform,deuterated chloroform,cdcl3,trichloromethane-d,unii-p1nw4885vt,trichloro deuterio methane,chloroform, deutero |
| IUPAC Name | trichloro(deuterio)methane |
| InChI Key | HEDRZPFGACZZDS-MICDWDOJSA-N |
| Molecular Formula | CHCl3 |
CAS: 865-49-6 Molecular Formula: CHCl3 Molecular Weight (g/mol): 120.375 MDL Number: MFCD00000827 InChI Key: HEDRZPFGACZZDS-MICDWDOJSA-N Synonym: chloroform-d,deuterochloroform,methane-d, trichloro,2h chloroform,deuterated chloroform,cdcl3,trichloromethane-d,unii-p1nw4885vt,trichloro deuterio methane,chloroform, deutero PubChem CID: 71583 ChEBI: CHEBI:85365 IUPAC Name: trichloro(deuterio)methane SMILES: C(Cl)(Cl)Cl
| | |
| --- | --- |
| PubChem CID | 71583 |
| CAS | 865-49-6 |
| Molecular Weight (g/mol) | 120.375 |
| ChEBI | CHEBI:85365 |
| MDL Number | MFCD00000827 |
| SMILES | C(Cl)(Cl)Cl |
| Synonym | chloroform-d,deuterochloroform,methane-d, trichloro,2h chloroform,deuterated chloroform,cdcl3,trichloromethane-d,unii-p1nw4885vt,trichloro deuterio methane,chloroform, deutero |
| IUPAC Name | trichloro(deuterio)methane |
| InChI Key | HEDRZPFGACZZDS-MICDWDOJSA-N |
| Molecular Formula | CHCl3 |
CAS: 865-49-6 Molecular Formula: CHCl3 Molecular Weight (g/mol): 120.375 MDL Number: MFCD00000827 InChI Key: HEDRZPFGACZZDS-MICDWDOJSA-N Synonym: chloroform-d,deuterochloroform,methane-d, trichloro,2h chloroform,deuterated chloroform,cdcl3,trichloromethane-d,unii-p1nw4885vt,trichloro deuterio methane,chloroform, deutero PubChem CID: 71583 ChEBI: CHEBI:85365 IUPAC Name: trichloro(deuterio)methane SMILES: C(Cl)(Cl)Cl
| | |
| --- | --- |
| PubChem CID | 71583 |
| CAS | 865-49-6 |
| Molecular Weight (g/mol) | 120.375 |
| ChEBI | CHEBI:85365 |
| MDL Number | MFCD00000827 |
| SMILES | C(Cl)(Cl)Cl |
| Synonym | chloroform-d,deuterochloroform,methane-d, trichloro,2h chloroform,deuterated chloroform,cdcl3,trichloromethane-d,unii-p1nw4885vt,trichloro deuterio methane,chloroform, deutero |
| IUPAC Name | trichloro(deuterio)methane |
| InChI Key | HEDRZPFGACZZDS-MICDWDOJSA-N |
| Molecular Formula | CHCl3 |
CAS: 865-49-6 Molecular Formula: CHCl3 Molecular Weight (g/mol): 120.375 MDL Number: MFCD00000827 InChI Key: HEDRZPFGACZZDS-MICDWDOJSA-N Synonym: chloroform-d,deuterochloroform,methane-d, trichloro,2h chloroform,deuterated chloroform,cdcl3,trichloromethane-d,unii-p1nw4885vt,trichloro deuterio methane,chloroform, deutero PubChem CID: 71583 ChEBI: CHEBI:85365 IUPAC Name: trichloro(deuterio)methane SMILES: C(Cl)(Cl)Cl
| | |
| --- | --- |
| PubChem CID | 71583 |
| CAS | 865-49-6 |
| Molecular Weight (g/mol) | 120.375 |
| ChEBI | CHEBI:85365 |
| MDL Number | MFCD00000827 |
| SMILES | C(Cl)(Cl)Cl |
| Synonym | chloroform-d,deuterochloroform,methane-d, trichloro,2h chloroform,deuterated chloroform,cdcl3,trichloromethane-d,unii-p1nw4885vt,trichloro deuterio methane,chloroform, deutero |
| IUPAC Name | trichloro(deuterio)methane |
| InChI Key | HEDRZPFGACZZDS-MICDWDOJSA-N |
| Molecular Formula | CHCl3 |
CAS: 865-49-6 Molecular Formula: CHCl3 Molecular Weight (g/mol): 120.375 MDL Number: MFCD00000827 InChI Key: HEDRZPFGACZZDS-MICDWDOJSA-N Synonym: chloroform-d,deuterochloroform,methane-d, trichloro,2h chloroform,deuterated chloroform,cdcl3,trichloromethane-d,unii-p1nw4885vt,trichloro deuterio methane,chloroform, deutero PubChem CID: 71583 ChEBI: CHEBI:85365 IUPAC Name: trichloro(deuterio)methane SMILES: C(Cl)(Cl)Cl
| | |
| --- | --- |
| PubChem CID | 71583 |
| CAS | 865-49-6 |
| Molecular Weight (g/mol) | 120.375 |
| ChEBI | CHEBI:85365 |
| MDL Number | MFCD00000827 |
| SMILES | C(Cl)(Cl)Cl |
| Synonym | chloroform-d,deuterochloroform,methane-d, trichloro,2h chloroform,deuterated chloroform,cdcl3,trichloromethane-d,unii-p1nw4885vt,trichloro deuterio methane,chloroform, deutero |
| IUPAC Name | trichloro(deuterio)methane |
| InChI Key | HEDRZPFGACZZDS-MICDWDOJSA-N |
| Molecular Formula | CHCl3 |