Fisherbrand Disposable Gloves
Focus on Fisherbrand for your safety needs
Fisherbrand™ single-use, disposable gloves are designed to provide you with maximum protection without compromising on comfort, and always offer great value for money. They are the ideal gloves for everyday use in the lab and come in a range of styles, sizes and materials to fit your requirements. We also supply them in new packaging designed to reduce waste and environmental impact.
Introducing the new collection of disposable gloves from Fisherbrand
Covering a wide variety of colours and styles, you can choose from blue, teal green, mint green or natural, with either short or extra-long cuffs for added protection. Most gloves are also available in the full range of sizes from extra small through to extra large, and are available either in nitrile or latex to cater for different skin types.
Download a pdf copy of our full brochure, or simply click on the tabs below to find out more about individual items and to review their detailed specifications.
Count on Fisherbrand to provide you with PPE hand protection according to the new EN374:2016 standards
To find out more information on EN374:2016 (new glove standards and requirements), click here
Nitrile gloves, comfort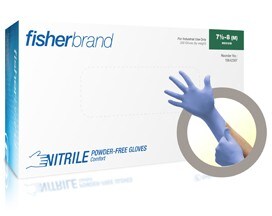 Choose a glove with enhanced comfort, exceptional fit and tactile sensitivity for delicate work. Fisherbrand comfort nitrile gloves are powder-free and latex-free with a beaded fit and textured fingers.
Nitrile gloves, extended cuff
Choose a glove with exceptional durability and added wrist protection. Fisherbrand extended cuff nitrile gloves are extra-thick and also fully textured for a superior grip.
Nitrile gloves with Aloe vera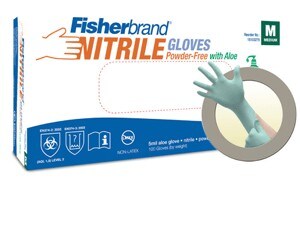 These gloves offer the same comfort and feel of latex and also feature a textured surface to provide an ideal grip in dry and wet working conditions. They are green for easy identification, and have a soothing Aloe vera coating on the inner surface making them great for prolonged use.
Latex gloves with Aloe vera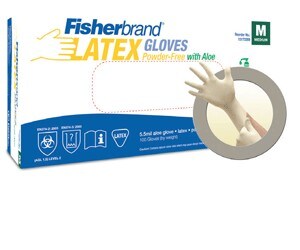 Fisherbrand latex examination gloves combine unsurpassed user comfort with a natural, protective latex barrier, and also contain soothing Aloe vera to help prevent your skin drying and chapping.