Pipets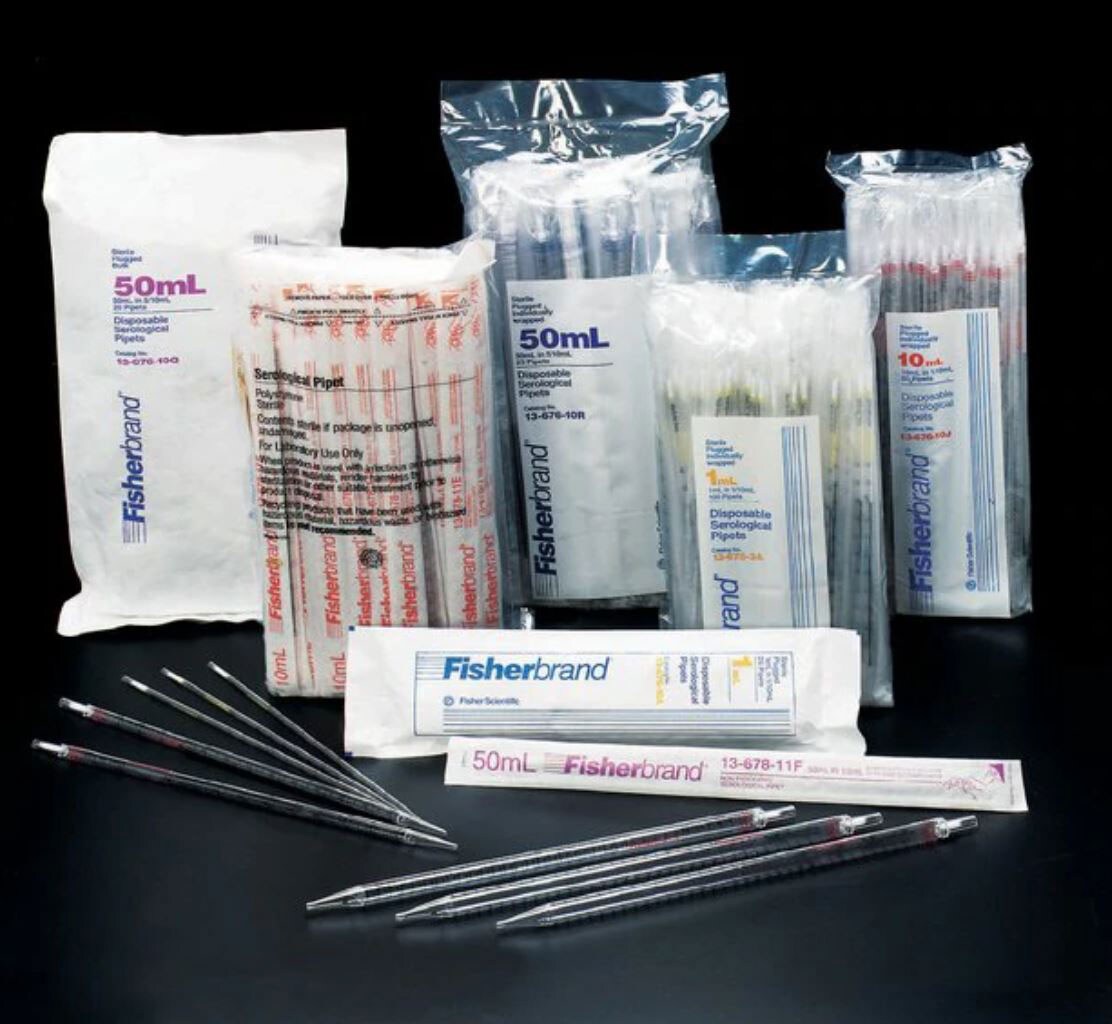 Pipets, or pipettes, are hand-held liquid transfer devices used in the laboratory for the uptake, delivery and dispense of liquid samples. They fall into several categories.
Dropping pipettes, transfer pipettes and Pasteur pipettes
Transfer pipets and Pasteur pipetsare used for small, drop-by-drop qualitative liquid transfers where precision is not critical. These pipettes are made from reusable glass supplied with a rubber bulb teat, or else from one-piece disposable plastics such as HDPE.
Serological pipettes, volumetric pipettes, aspirating pipettes
Serological pipets are sterile and graduated, made from glass or plastic and are used in tissue culture or clinical environments for the accurate handling of liquids such as growth media, sera, or biological samples from 1mL to 100mL. Supplied in individual wraps to maintain sterility.
Graduated volumetric pipets, fixed volumetric pipets, measuring pipettes and bulb pipettes are used for precise liquid handling, and are calibrated to deliver (TD) volumes from 0.5mL to 100mL in applications including titrations and production of standard solutions. Volumetric pipettes are made from disposable plastic, or from autoclavable borosilicate glass for enhanced chemical and heat resistance. Soda lime glass volumetric pipettes are also available for less demanding applications. Volumetric and bulb pipettes are marked with the necessary fill level to the nominal capacity and may be designated as Class A, Class AS or Class B depending on their accuracy.
Aspirating pipets are used specifically for vacuum aspiration (suction) of liquids in a controlled manner from vessels or containers such as petri dishes or cell culture tubes.
More